SCHOOL FACILITIES
ICT ROOM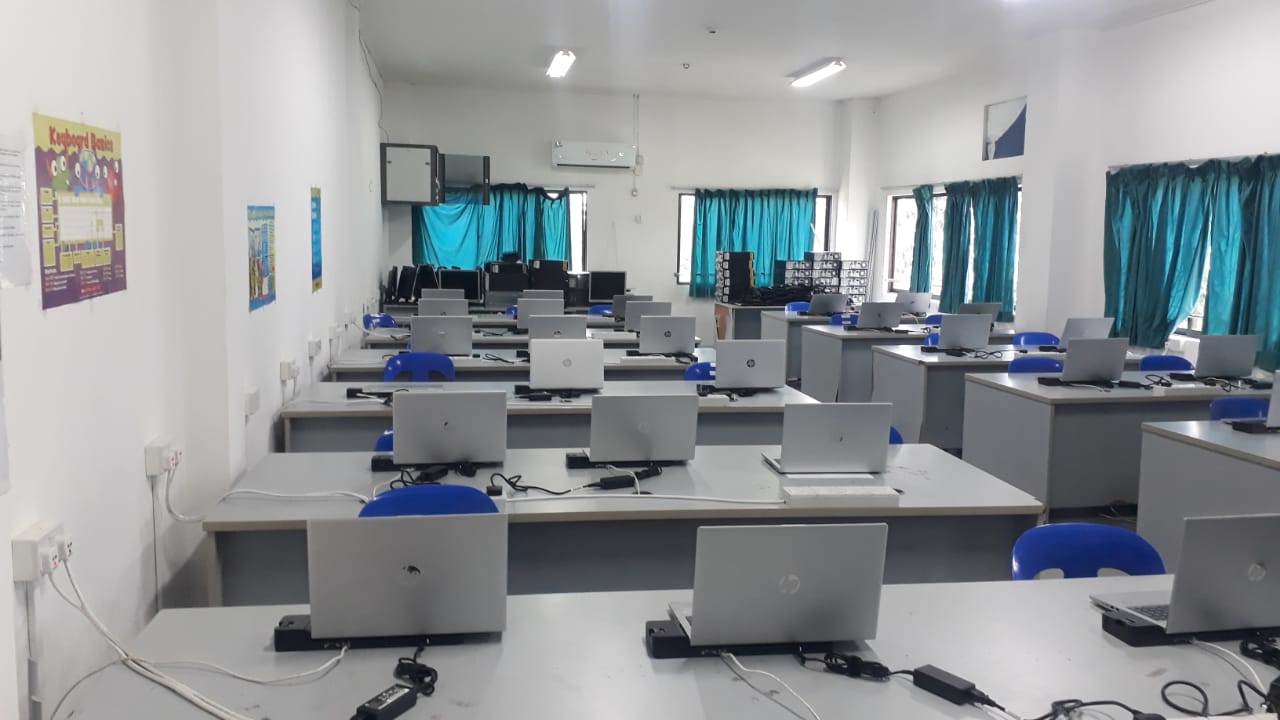 Our state-of-the-art Computer Lab features 30 terminals with Microsoft Office and internet access. The Computer Lab is available for online research and typing papers. The Computer Lab is open to all St. James's students. The school is well-equipped with a wide range of ICT equipment. There are 30 Computer Suites and a range of peripherals to support learning such as laptops, digital cameras, and projectors. All classrooms have one computer set to augment learning.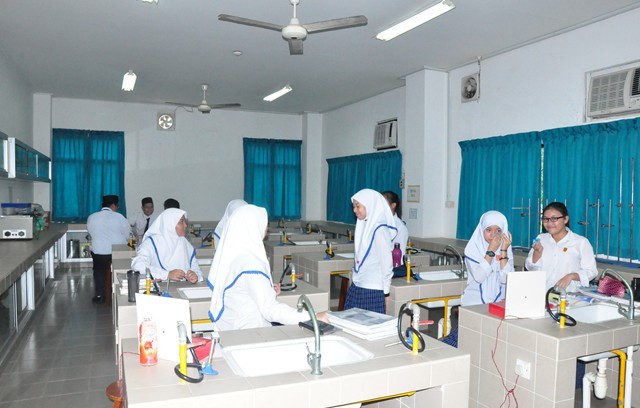 SENIOR SCIENCE LABORATORY
Pure Science (Biology, Chemistry and Physics) are experimental science subjects. The theoretical concepts and relationships introduced in the lecture part of the syllabus describe the general nature and behavior of real phenomena. They were, appropriately, discovered by (or inducted from) careful observation and thoughtful analysis of actual experiments. Genuine understanding entails being able to relate the abstract ideas to the particular facts to which they correspond.
The premise of the scientific method is that (observation of) nature is the ultimate judge of the truth of any physical theory. Indeed, experiments designed to prove certain ideas have often ended up showing them to be wrong. Consequently, all physical concepts must be verified experimentally if they are to be accepted as representing laws of nature.
The Science laboratories have the following purposes and goals:
1. To provide an experimental foundation for the theoretical concepts introduced in the lectures. It is important that students have an opportunity to verify some of the ideas for themselves.
2. To familiarize students with experimental apparatus, the scientific method, and methods of data analysis so that they will have some idea of the inductive process by which the ideas were originated. To teach how to make careful experimental observations and how to think about and draw conclusions from such data.
3. To introduce the methods used for estimating and dealing with experimental uncertainties, including simple ideas in probability theory and the distinctions between random (statistical) and systematic "errors." This is essential in understanding what valid conclusions can be deduced from experimental data and that, properly obtained, these conclusions are valid, notwithstanding the uncertainty of the data.
4. To learn how to write a technical report which communicates scientific information in a clear and concise manner.
5. To introduce new concepts and techniques which have a wide application in experimental science, but have not been introduced in the standard courses. These may require that the student consult additional textbooks. The laboratory is not a contest whose object is to get the "right answer." The purpose is to learn how to gain knowledge by looking at reality, not an attempt to make reality conform to preconceptions. The important thing is to learn how to be observant, to really see what happens, and to deal with this information with the strictest integrity. And to understand, or learn to understand, the meaning of what happens

.
BUSINESS, ART and TECHNOLOGY ROOM

The BAT Room is a purpose built, spacious working area with a full range of facilities. The school ensures that students have access to a variety of materials and resources to support a broad spectrum of artistic mediums and techniques. These include textiles, screen printing, sculpture, drawing and painting.
The BAT room also has computers to support art appreciation and multi-media learning.
CLASSROOMS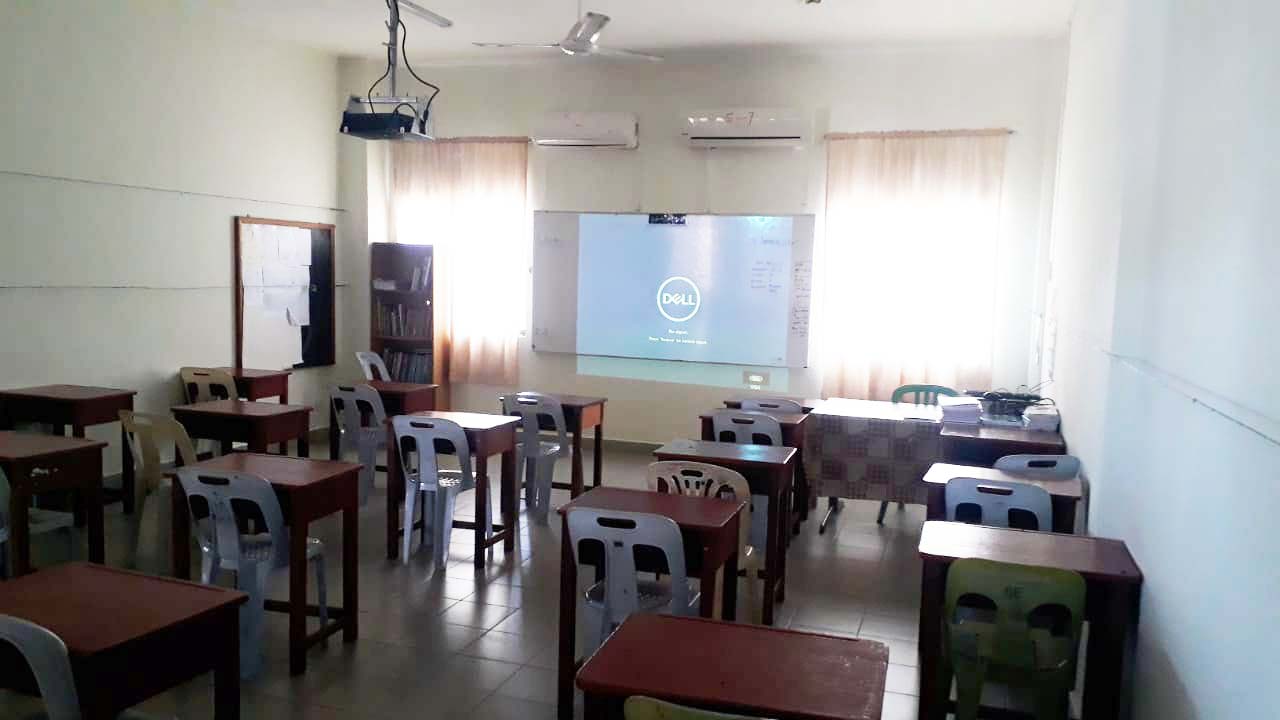 Each classroom is spacious and welcoming. The classrooms are well furnished, light and colour coordinated with ergonomic chairs and tables. The student 'postura' chairs promote students' posture, comfort and reduce potential back ailments. Each classroom has a computer suite. All classroom areas are air conditioned.
COVERED PLAY AREA
The Covered Play Area is used by all students in the school. Because the area is covered, the children always have an outdoor space for playtimes no matter what the weather. It is also used for PE lessons and CCA activities.
LIBRARY
The library is a bright and friendly facility that provides information and learning resources for students from nursery through to year 11. Resources include an extensive range of books, magazines, audio visual material, games and puzzles.
PRESIDENT ROOM
Meetings and other events are held in the PR Room
DISCIPLINE GUIDELINES
Dress Code and Proper Grooming
Boys Uniform
Boys should wear white polo shirt with short or long sleeves, dark blue trousers, tie (light blue for years 7-9) and (dark blue for years 10-11), black shoes, white socks and songkok.
Girls Uniform
Girls should wear white long sleeves blouse, blue checkered skirt and white tudung with a school's logo, black shoes and white socks. For those who are not wearing tudung, hair must be tied neatly.
PE uniform
PE uniform must be worn during PE and CCA activities only with pair of white and black sport shoes.

Haircut and Fingernails
Boys should have a proper haircut (no dyed hair). The hair must not touch the ears or collar of the shirt. Students must have short fingernails and NO nail polish.
Restricted Items
Mobile Phones (MOE Memorandum KPE/DG/BPS/C/29) Mobile phones are strictly prohibited in school as it may cause disruption to lessons. The rules below will be applied for any offenders.
-click here to view the Student's Handbook